SPO News
Cancellation
The Procurement Policy Board Meeting on Tuesday, July 22, 2014, has been cancelled and will be rescheduled for a later date.
Cancellation Notice: July-Cancelled
If you would like to be included on the email notice list for future Procurement Policy Board meetings, please email your name, email address and phone number to procurement.policy.board@hawaii.gov.
Compliance & Ethics Essentials Covered at HPI Summer Procurement Series
More than 45 attendees participated in the half-day workshop on Compliance & Ethics Essentials of the Summer Procurement Series.  The workshop was coordinated and moderated by event chair Cori Lau, Esq., (pictured in photo on the right), and featured speakers SPO Administrator Sarah Allen (pictured in photo on the left), Michael Matsumoto, Jessica Wong and Mihoko Ito.  The third in the series of workshops on Protests: Legal Update will be held on Friday, July 25, and will be chaired by Randy Whatoff.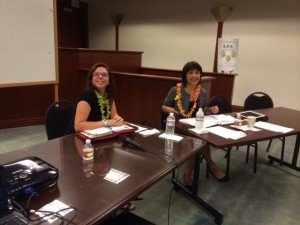 SPO Administrator Speaks at NCMA Aloha Chapter Training
SPO Administrator Sarah Allen spoke to about 30 Acquisition Professionals at the Aloha Chapter of the National Contract Management Association's May 15, 2014, meeting about the importance of good leadership and elevating the procurement profession.  She shared her thoughts on valuable tips cited in the article, "Secrets of Superstar Contracting Professionals," found the May 2014 issue of NCMA's magazine, Contract Management.  Click here for the complete article: 2014_0515 NCMA Training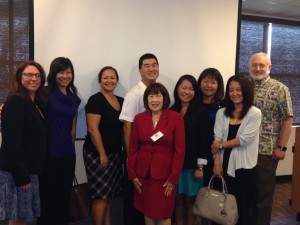 Hawaii Procurement Institute Legislative Update
While different organizations disagreed on how to improve or fix state procurement laws, they all agreed that contractors, procurement professionals, lawmakers and the State Procurement Office (SPO) should convene and have proactive discussions on procurement issues before the start of the next legislative session. This was the common message shared by speakers at the 2014 Legislative Update sponsored by the Hawaii Procurement Institute (HPI) on April 30, 2014.  The audience of more than 20 from both the public and private sectors was a good indication that the issue of procurement was of great importance and interest.  Click here for the complete article: 2014 HPI Legislative Update