SPOCon 2017 – Important Info for Government Attendees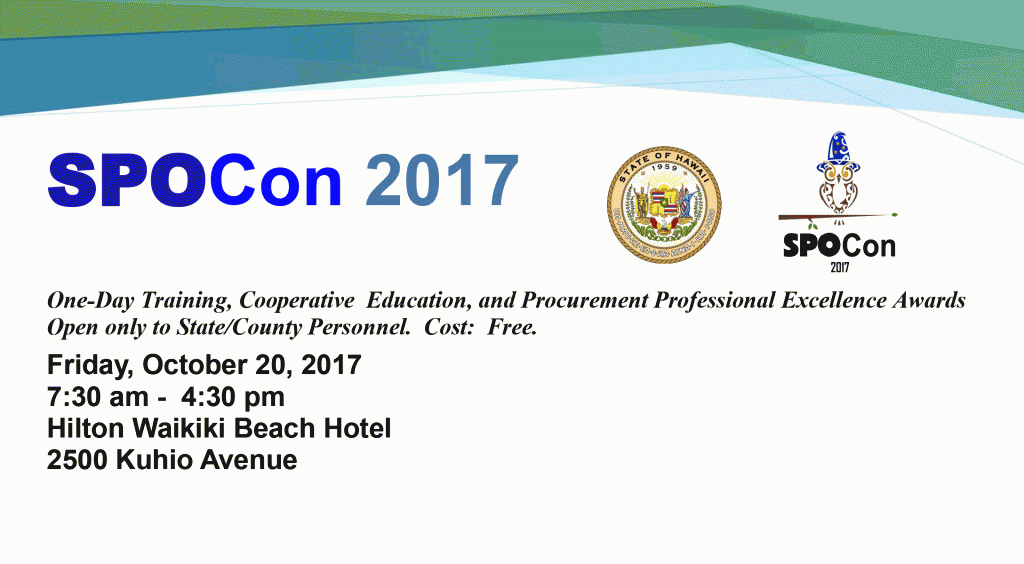 Aloha!
The State Procurement Office is ready for 2017 Procurement Conference (SPOCon), scheduled for October 20, 2017, from 7:30 a.m. to 4:30 p.m., at the Hilton Waikiki Beach Hotel. This event is free thanks to funds from the National Association of Procurement Officials, and is open to only Hawaii state and county purchasing staff from all islands for a rare opportunity to come together for training at a single venue.  Conference activities that we plan to include are procurement training, an awards program to recognize top procurement staff in the state, an interactive, hands-on procurement exercise for a simulated disaster, presentations by vendors who have contracts with the State of Hawaii, and face-to-face interaction with vendors in the Vendor Exhibition Hall.   'Olelo Community Media will be recording parts of SPOCon 2017 to be televised after the event.
Registration for State/County Purchasing Staff
To inquire about late registration, please email Ruth.A.Baker@hawaii.gov.
Hawaii Procurement Excellence Team Award
As part of the conference, the SPO will also be hosting the Awards Ceremony Breakfast for the 2017 Hawaii Procurement Excellence Team Award; all nominees for the team award are asked to attend the awards breakfast to be recognized — this is an opportunity for you to showcase your department and your procurement staff's exceptional work.  The winning team will be announced at this ceremony.
Mahalo to the agencies who submitted a team nomination form!
Other Important Information
Additional info for state/county employees:
Exhibition Hall Passport – Conference attendees will be encouraged to visit all the vendors and get this passport completely stamped for a chance to win prizes in a prize drawing.  Each vendor will have the company logo on the passport and is invited to offer a prize for the drawing.
For more info on SPOCon 2016, please scroll down to the bottom of this page
Location: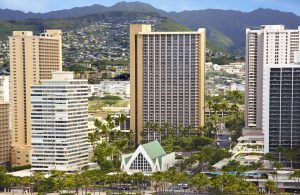 Hilton Waikiki Beach Hotel – Third Floor
Government Employees: Prince Kuhio Ballroom
Vendor Exhibits:   Prince Edward & Prince David Rooms
2500 Kuhio Avenue
Honolulu, Hawaii  96815
Airport:  Honolulu International Airport
Directions:  http://www3.hilton.com/en/hotels/hawaii/hilton-waikiki-beach-HNLWAHF/maps-directions/index.html
Parking:   Free, validated valet parking is available for only state/county employees.  Please carpool or arrive early in anticipation of the arrival of a large number of cars between 7:30 and 8:30 a.m. Self-parking is not available.
Accessibility:  Parking is valet through the porte-cochere/driveway. The hotel has an ADA lift at the front of the hotel for wheelchair access. The hotel also has a driveway in the rear of the building off Liliuokalani Avenue.  Elevators in the lobby will take guests to the conference location on the third floor.
Attire:   Aloha wear, casual business. Please bring a sweater/outwear since the meeting room/ballroom is air-conditioned.
Check-in:    Check-in will begin at 7:30 am in the foyer just outside the Prince Kuhio Ballroom. Please be sure to check in to confirm your attendance.  At check-in, you will be given a name badge to wear at all times, as well as a conference packet.  Continental breakfast and refreshments for government attendees will be served in the alcove adjacent to the ballroom.
Certificate of Attendance:  Certificates of attendance will be available when you exit the ballroom on the table in the foyer.
Lost & Found:   Any items that are found after the conclusion of SPOCon will be turned in to the Hilton Waikiki Beach Hotel.
Contact:    If you have any questions through October 19th, please contact Ruth at (808)587-4701 or at ruth.a.baker@hawaii.gov
SPOCon 2016
Mahalo to the more than 110 state and county procurement/purchasing personnel, vendors who have statewide contracts, various speakers,  'Olelo Community Media, and Governor David Y. Ige for making SPOCon 2016 a success.  SPOCon, a one-day training event held on October 21, 2016, at the Hilton Waikiki Beach included
Please click on each topic above for a link to the handout.
You can also click on SPOCon 2016 Program for the complete program and 2016 SPOCon Recap for an overview of the event.