SPO News
SPO Publishes Winter 2014 Newsletter
The SPO Winter 2014 Newsletter, BuyLine, features important articles about Procurement Rule Changes and Small Business input, as well as an informative article about Agile Acquisition.
Invitation to Participate in Survey about Hawaii Small Business Set-Aside
The State Procurement Office (SPO) would like to invite small businesses to participate in a short survey about the Hawai'i small business set-aside.  A small business set-aside is a way for the State to support small business by setting aside certain State contracts, projects, or purchases for competition among qualified small businesses only.  The SPO has begun to facilitate a process aimed at building a solid foundation for the implementation of Hawai'i's small business set-aside, and this survey is one aspect of that process.
The Hawai'i small business set-aside law (HRS §§103D-901 thru -906; Act 50/SLH 2005), currently does not have implementing administrative rules; initial interim rules expired in 2011 without any further guidance.  The SPO has begun to move forward with an initial process to facilitate the development of new administrative rules by working with stakeholders within the small business community and governmental departments.  These meetings and discussions, as well as research done by the SPO related to this matter, have led to the development of this  survey.
The survey is intended to function as a way to engage with a broad range of small business stakeholders and to identify some of the key issues facing small business in Hawai'i.  The SPO wants this initiative to include input from a broad range of small business community and departmental stakeholders in order to build a solid foundation for the drafting and implementation of the small business set-aside rules.  Your opinions and experiences in small business are important to this process.  The survey contains questions specific to small business owners as well as to prime contractors, sub-contractors, government, and small business advocates. Associations, please distribute this letter and the survey to your membership, and ask them to participate by completing the survey and telling the SPO some of what they know about small business in Hawai'i.
The Small Business Set-Aside Survey is found at https://www.surveymonkey.com/s/HISmallBiz. It should take only about 30 minutes to complete and will provide invaluable information to the SPO during this process.  Please complete the survey by close of business on Friday, January 2, 2015.  The answers are anonymous; any identifiable information a participant chooses to provide will be for SPO internal use in relation to the small business set-aside initiative and will be kept confidential.
Governor Signs Emergency Proclamation in Anticipation of Tropical Storm Ana
Gov. Neil Abercrombie signed an Emergency Proclamation in anticipation of the arrival of Tropical Storm Ana, which is forecast to impact the state this weekend, possibly as a hurricane.
The proclamation, which includes all of the main Hawaiian Islands, allows the state to draw upon funds for protective measures. It also allows easier access to emergency resources at the state and federal levels, along with the suspension of certain laws as needed for emergency purposes.
"Now is the time for all of us to prepare for Ana," said Gov. Abercrombie. "The best way the state can prepare is through this proclamation, which allows us to respond quickly to any potential impacts."
The disaster emergency relief period for the proclamation begins October 16, 2014, and continues through October 24, 2014.
Recommended preparedness actions may be found on the Hawaii Emergency Management Agency website at scd.hawaii.gov. Residents are also encouraged to enroll in local notification systems and monitor local radio and television broadcasts.
Governor Presents "Team of the Year" Award to SPO's HIePRO Team
DAGS' HIePRO Team of Mara Smith, Bonnie Kahakui and Stacey Kauleinamoku, was named State Team of the Year on Friday, October 3, 2014. To increase the level of transparency through which the state procures goods and services, the team developed the State of Hawaii eProcurement system for issuing solicitations, receiving responses and issuing notices of award. As of April 2014, 156 procurements had been awarded on HIePRO, totaling more than $8.6 million, with an estimated cost savings of more than $1.3 million.
 "These individuals have selflessly given of themselves to enrich the lives of those they serve," Gov. Abercrombie added. "Their accomplishments perpetuate the aloha spirit and make our state a special place to live and work."
The Team of the Year, Manager of the Year and Employee of the Year were selected from 51 exceptional individual and group nominees. A volunteer selection committee of five prominent members of the community carefully reviewed nomination packets and rated them according to defined categories. The committee then presented their recommendations for the three awards to Gov. Abercrombie.
Congratulations, Mara, Bonnie and Stacey!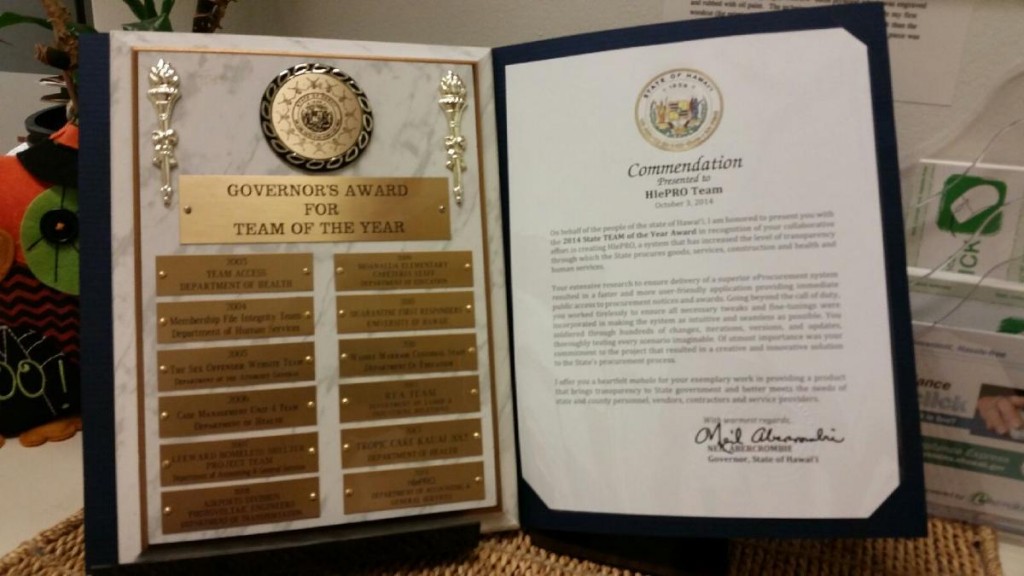 Governor Signs Supplemental Emergency Proclamation in Preparation of Lava Flow Crossing Highway 130
On September 22, 2014, Gov. Neil Abercrombie signed a supplemental emergency proclamation to include the repair, restorations, rebuilding, or reestablishment of Chain of Craters Road, for use as an alternate emergency route should the June 27th lava flow cross Highway 130 near Pahoa and isolate communities in lower Puna from the rest of Hawaii County.
"Even though the lava flow appears to have slowed to a halt for the time being, the state and Hawaii County are prepared and moving forward together with contingency plans in the event the lava does progress farther," Gov. Abercrombie said.
Today's proclamation, supplemental to the emergency proclamation signed on Sept. 5, also extends the disaster emergency relief period through Dec. 1, 2014.
The original proclamation suspended certain laws as needed for emergency purposes, including state restrictions on reestablishing abandoned roads that may be used should lava cross Highway 130. It also activated the Major Disaster Fund set aside by the state Legislature for disaster relief and facilitates access to emergency resources at the state and federal levels.
Residents are also encouraged to enroll in local notification systems and monitor local radio and television broadcasts.
DAGS Selects Employee and Team of the Year from SPO
The Department of Accounting and General Services selected staff from the State Procurement Office as awardees for the Team and Employee of the Year. The HIePRO Team, lead by Mara Smith, Bonnie Kahakui and Stacey Kauleinamoku, was named Team of the Year, and Ronnie Correa was named Employee of the Year.  The awards were presented by Comptroller, Dean Seki, and Governor's Chief of Staff, Bruce Coppa, during a ceremony on Wednesday, September 10, 2014, in the State Capitol Auditorium.  Mr. Seki also presented the Comptroller's Perpetual Trophy for the Team of the Year and the Comptroller's Perpetual Trophy for the Employee of the Year to Sarah Allen, Administrator of the SPO.
The Team of the Year planned, developed and executed HIePRO, the State of Hawaii eProcurement system that issues solicitations, receives responses, and issues notices of award. Beginning January 2014, new procurements were issued in HIePRO and since then, 183 procurements were awarded totaling over $9.9 million with an estimated cost savings of over $1.4 million.  In addition to Mara, Bonnie and Stacey, SPO staffers Ronnie Correa, Wendy Ebisui, Corinne Higa, Andrew Lum, Stan Mato, Michael Ong, Kevin Takaesu, Donna Tsuruda-Kashiwabara, and Carey Sasaki contributed their expertise to the monumental project.  The commitment and professionalism of the HIePRO team to set, and at times re-evaluate, project priorities and ultimately provide a creative and innovative solution earned DAGS' Team of the Year Award.
Ronnie Correa, Secretary III, was presented the DAGS Employee of the Year Award. Ronnie, who has been with the SPO for the past seven years, has a strong passion for her job and is a team player, dependable, trustworthy, honest, sincere, and personable. She continually exceeds expectations and inspires others to do the same.
In her instrumental supporting SPO's training program, she maintains the statewide training database of over 7,000 attendees, generates quarterly attendance reports, and facilitates webinars by assisting trainers and responding to questions from attendees.
Ronnie keeps a well-organized stock of office supplies and maintains the office's administrative files and filing system in a way that makes information readily available. She maintains databases for our contract processing system, mail routing, CPO requests for exemptions, sole source, emergency and contract extensions, training attendance, statewide procurement delegation and forms management.  She has improved the efficiency of logging and created links so that staff need only click on a link to get to the contract, delegation, training attendance or form, essentially creating the rudiments of our business process flow without the help of specialized software.
She reviews all incoming correspondence and assigns 250 actions internally, initiating replies to routine correspondence. She independently reviews on a continuing basis all 40 forms, 20 reports, and multiple administrative procedures, and continually offers suggestions for improvement.
Ronnie worked in a dual role as supervising officer manager to the two SPO administration staff, for the SPO team, as well as Executive Assistant to the incoming Procurement Administrator. Her exceptional organizational skills and commitments to excellence enabled both separated offices to work cohesively, in what could have been a very turbulent time for all the SPO staff.  She was the vital element that ensured and continues to ensure a unified SPO team.  Her natural exuberance, and general caring and interest for each member of the team, has developed an environment of safety and 'ohana in the SPO office.  A strong leader and superb follower, she exemplifies the best in the SPO staff.
Congratulations to Mara, Bonnie, Stacey and Ronnie for the outstanding work that they have done for the people of Hawaii!
SPO Pueo Award Presented to DCCA Staff for Best Practices
Across the world, the owl serves as a symbol of wisdom and knowledge. Pueo, the Hawaiian Owl has a special place in Hawaii's mythology. Pueos were silently sailing over the Hawaiian Islands well before the arrival of the first Polynesians. This bird of wisdom is known for offering guidance and protection.
The SPO recognizes state employees who are guardians of procurement with its Pueo Award.  The Pueo Award was presented to Jacqueline Choy and Brent Suyama of the Department of Commerce and Consumer Affairs for Best Practices in Procurement on September 5, 2014, at DCCA's Annual Incentive and Awards Ceremony.  Jacqueline and Brent were recognized for their due diligence and exemplary documentation in justifying a request for exemption from HRS Chapter 103D in awarding a contract to National Theatre for Children. These Procurement Specialists conducted in-depth market research and cost and pricing analysis that was exceptionally crafted and meaningful. This team understands the vital importance of procurement planning which includes researching what is available in the current market and analyzing what a competitive price should be for the service – essentially safeguarding taxpayer money!
Any acquisition, whether it is exempt or not, must have adequate strategic planning to assure a successful, competitively priced contract.
Well done, Jacqueline and Brent, and thank you Director Keali'i Lopez for your graciousness in allowing us to present at DCCA's Award Ceremony!
SPO Administrator to Speak at SBH Sunrise Networking Breakfast
SPO Administrator Sarah Allen will be a special guest speaker at the next Smart Business Hawaii (SBH) Sunrise Networking Breakfast, which will be held Thursday, July 31, 7 – 8:30 am, in the Pineapple Room, Macy's Ala Moana Center. More information is available on the SBH website.
Topic: Small Business and the Hawaii Economy, and How it Relates to State Procurement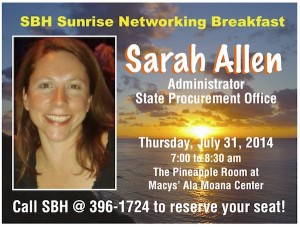 Cancellation
The Procurement Policy Board Meeting on Tuesday, July 22, 2014, has been cancelled and will be rescheduled for a later date.
Cancellation Notice: July-Cancelled
If you would like to be included on the email notice list for future Procurement Policy Board meetings, please email your name, email address and phone number to procurement.policy.board@hawaii.gov.
Compliance & Ethics Essentials Covered at HPI Summer Procurement Series
More than 45 attendees participated in the half-day workshop on Compliance & Ethics Essentials of the Summer Procurement Series.  The workshop was coordinated and moderated by event chair Cori Lau, Esq., (pictured in photo on the right), and featured speakers SPO Administrator Sarah Allen (pictured in photo on the left), Michael Matsumoto, Jessica Wong and Mihoko Ito.  The third in the series of workshops on Protests: Legal Update will be held on Friday, July 25, and will be chaired by Randy Whatoff.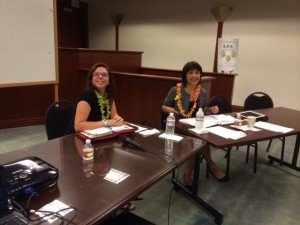 SPO Administrator Speaks at NCMA Aloha Chapter Training
SPO Administrator Sarah Allen spoke to about 30 Acquisition Professionals at the Aloha Chapter of the National Contract Management Association's May 15, 2014, meeting about the importance of good leadership and elevating the procurement profession.  She shared her thoughts on valuable tips cited in the article, "Secrets of Superstar Contracting Professionals," found the May 2014 issue of NCMA's magazine, Contract Management.  Click here for the complete article: 2014_0515 NCMA Training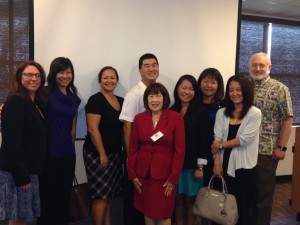 Hawaii Procurement Institute Legislative Update
While different organizations disagreed on how to improve or fix state procurement laws, they all agreed that contractors, procurement professionals, lawmakers and the State Procurement Office (SPO) should convene and have proactive discussions on procurement issues before the start of the next legislative session. This was the common message shared by speakers at the 2014 Legislative Update sponsored by the Hawaii Procurement Institute (HPI) on April 30, 2014.  The audience of more than 20 from both the public and private sectors was a good indication that the issue of procurement was of great importance and interest.  Click here for the complete article: 2014 HPI Legislative Update