Airports Step Up to Pilot for Procurement Business Process Review
Airports Step Up to Pilot for Procurement Business Process Review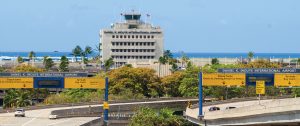 The DOT Airports' System has volunteered to be the first State department to participate in a review of their internal procurement policies and procedures for the purposes of finding efficiencies and becoming "system-ready" for our new eProcurement Vision.
The eProcurement Vision is the implementation of a robust eProcurement System covering the entire procurement lifecycle — from Planning to Conclusion — for the Executive branch as well as optionally for all other Hawaii CPO Jurisdictions.
Before we can provide a great system, we must be sure we have processes that can transfer from the manual or hybrid way we are doing it now to this new digital landscape.
The State Procurement Office (SPO) joined DOT Airports this week with Civic Initiatives. We collaborated step-by-step through each part of the procurement process, covering all procurement types, workforce organization, workflow reviews, and forms.
Ford Fuchigami, DOT-Airports Administrative Services Officer and a passionate champion for a 21st Century Airport system, stated: "We are working as one team, developing a future state for the Airport System in how we deal with the full life-cycle of procurements and contracts. We believe there are many opportunities to achieve cost savings and efficiencies as we re-imagine our internal procurement processes and policies, and we are excited to be first in the Executive Branch to do this kind of review to be ready for implementing the eProcurement system Vision."
The review should be completed by December this year. Other Departments will follow this review and implementation plan. The intent is to conduct research to develop a robust solicitation, to develop our funding model and create an implementation plan for all 21 Executive Branch departments. SPO is asking these departments, especially the larger, more complex departments, to sign up for their place in the line to ultimately assist us in smoothly transitioning from a hodge-podge set of systems and manual processes into a quicker, more efficient, transparent procurement system!