Surplus Property Office
Federal Surplus Property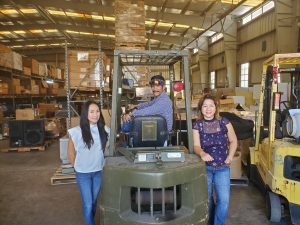 The Federal Surplus Property program is a "donation" program that makes it possible for the State of Hawaii to bring in excess Federal Government property and make it available to our customers at greatly reduced fees (This program is NOT open to the public).  There is no cost to utilize this program, except for the donation fees associated with the property we bring in; these fees cover our freight costs and a small administrative fee.  This program brings in a wide array of property spanning from gloves to 20 ton dump trucks.  Customers signed up in the Federal Surplus program are automatically enrolled in the State Surplus Property program as well.  Your agency may also make special requests for items you are looking for and we can try to find those items specifically for you.
State Surplus Property
The State Surplus Property program brings in property that is no longer needed by state agencies in the State of Hawaii and makes it available to our customers.  This property is required to be made available to qualify donees for a period of 30 days before it can be made available to the public.  This program has everything from computers to cars.  Please contact us today to see what we have available that will fit your needs.
Contact